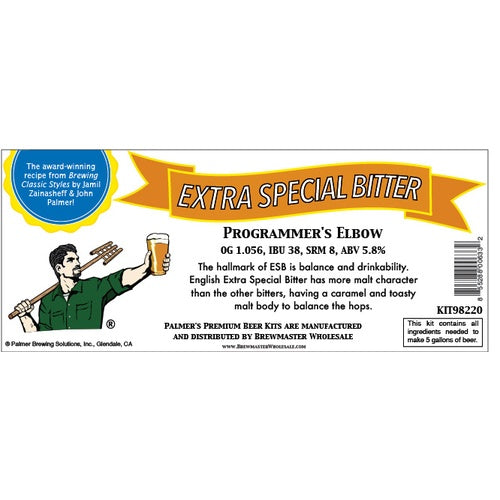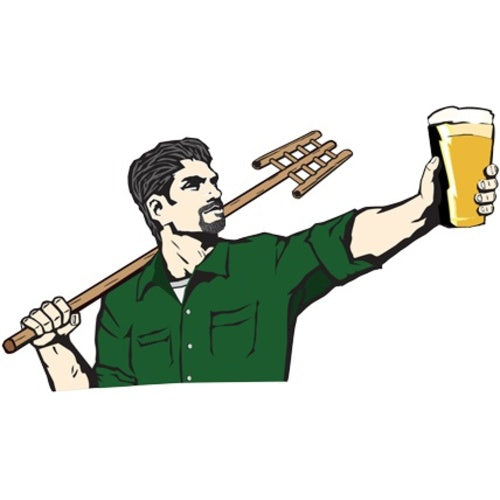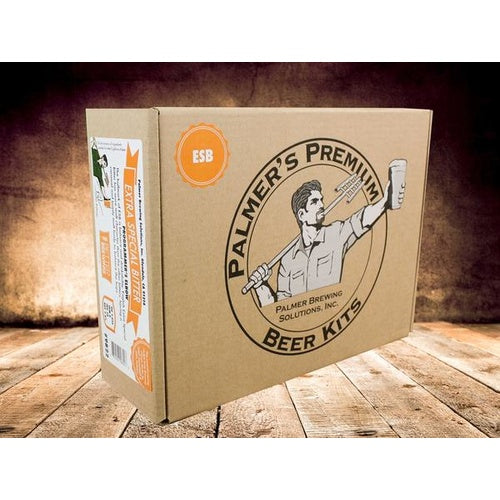 Palmer Premium Beer Kits - Programmers Elbow - Extra Special Bitter (ESB)
Palmer Premium Beer Kits - Programmers Elbow - Extra Special Bitter (ESB)
The award-winning recipe from Brewing Classic Styles by Jamil Zainasheff and John Palmer, prepared and assembled in a ready to brew ingredient kit!
The hallmark of English pale ale is balance and drinkability. The strong or extra special bitter category has the most hop flavor and aroma of the English pale ale styles (excluding IPA), but it should not have the big late-hop flavor and aroma character of American pale ale or IPA. This category has more malt character than the other bitters, having a caramel and toasty malt body to balance the hops. This beer is great for quenching the thirst of every workingman. However, it's therapeutic properties for repetitive stress injury will need to be evaluated on an individual basis.
This homebrew kit makes 5 gallons.
This Kit Includes:
Briess CBW® Dry Malt Extract (DME), Crushed Steeping Grains, Steeping Bag,  Hops, Fermentis Yeast, Priming Sugar, Brewing Instructions, Recipe Instructions
Statistics:
Gravity  (OG) 1.056
Bitterness  38 IBUs
Color  8 SRM
ABV  5.8%
| | |
| --- | --- |
| Item # | KIT98220 |
| | |
| Weight | 12LBS |
| ABV % | 5.8 |
| IBU | 38 |
| SRM | 8 |
| Beer Style | Pale Ale & Bitter |
| Ready to Drink Within | 2-4 Weeks |
| Alcohol Content | Medium (5-7%) |
| Bitterness | Medium (26-45ibu) |
| Fermentation Temp Range | 64-72 |
| Brewing Method | Extract |
| Pre-Milled | Y |