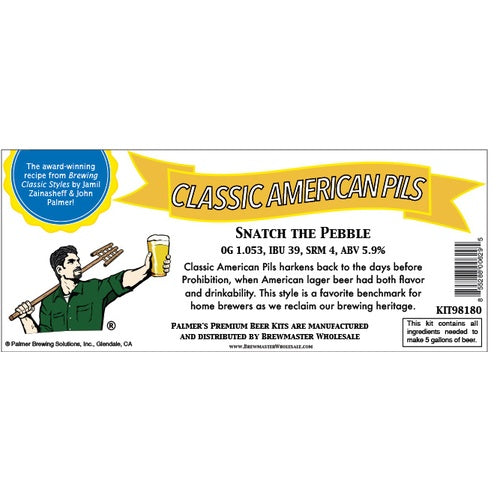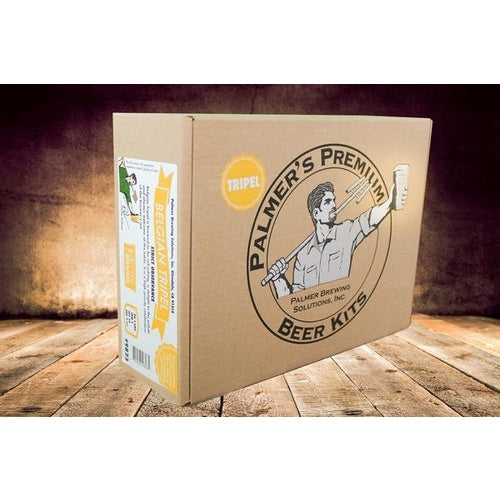 Palmer Premium Beer Kits - Snatch the Pebble - Classic American Pilsner
The name, "Snatch the Pebble" refers to that classic American TV show, Kung Fu, and speaks to Jamil's efforts to master this style of beer. Classic American Pilsner is your greatgrandfathers beer, pre-prohibition, with a hearty beer flavor, and assertive hop bitterness, but with an easy-drinking body from the corn adjunct. Corn syrup solids are mostly maltose, produced by mashing corn and drying the wort to solid form. This is the easiest way to get true adjunct corn character into the beer without the necessary cooking beforehand. 
The award-winning recipes from Brewing Classic Styles by Jamil Zainasheff and John Palmer, prepared and assembled into ready-to-brew ingredient kits! These kits have been specially designed to be brewed at home on your kitchen stove with a minimum of equipment. Each kit comes with clear, illustrated brewing instructions for the general brewing process and step-by-step instructions for brewing that particular kit. The kits range from extract-only, to extract and steeping grains, to extract and partial mash and contain everything needed to brew 5 gallons of beer. All you need is a standard equipment kit from your local home brewing supply shop and a 5 gallon (20L) pot.
This Kit Includes:
Briess CBW® Dry Malt Extract (DME), Flaked Corn, Steeping Bag, Amylase Enzyme, Hops, Fermentis Yeast, Priming Sugar, Brewing Instructions, Recipe Instructions
Statistics:
Gravity  (OG) 1.053
Bitterness  39 IBUs
Color  4 SRM
ABV  5.9%
Item #

KIT98180

Availability
California - 21 In Stock

 


Pennsylvania - 2 In Stock
Weight

10LBS

ABV %
5.9
IBU
39
SRM
4
Ready to Drink Within
2-4 Weeks
Alcohol Content
Medium (5-7%)
Bitterness
Medium (26-45ibu)
Fermentation Temp Range
54-58
Brewing Method
Extract
Pre-Milled
Y