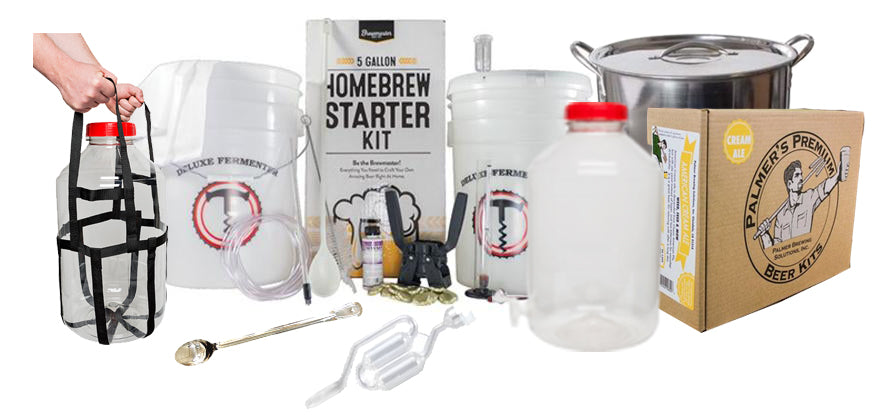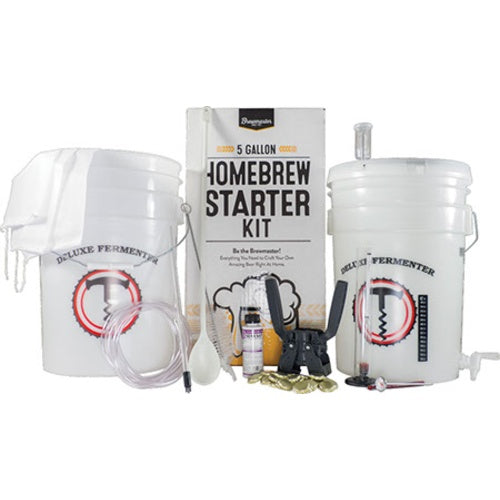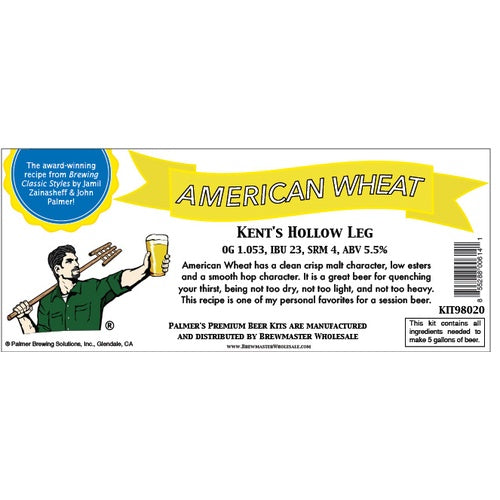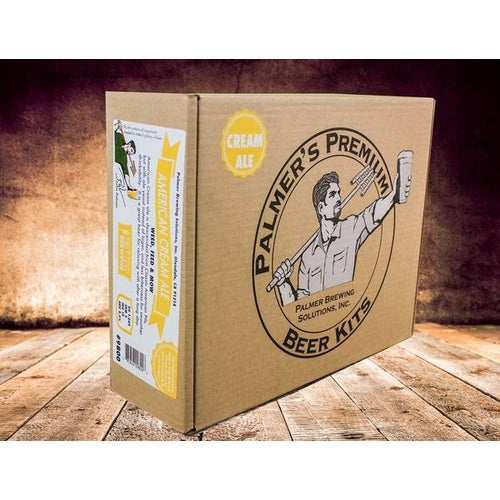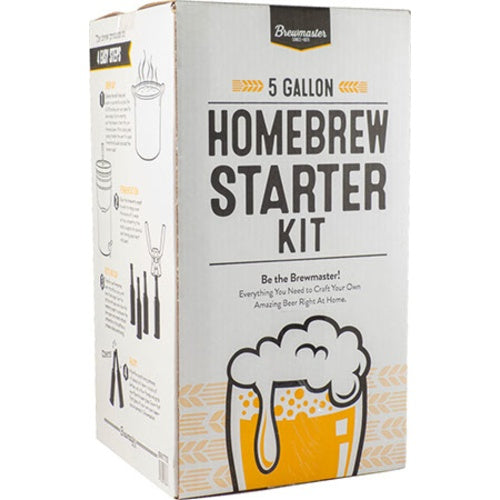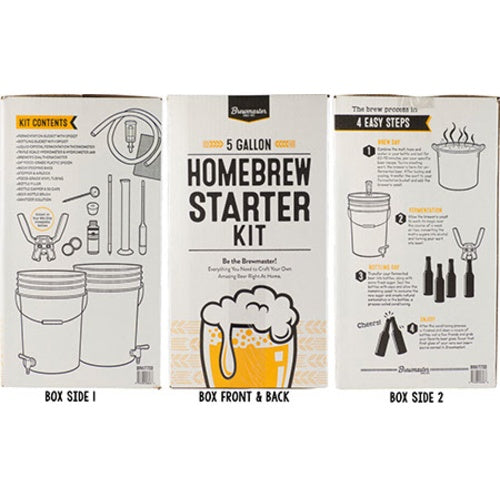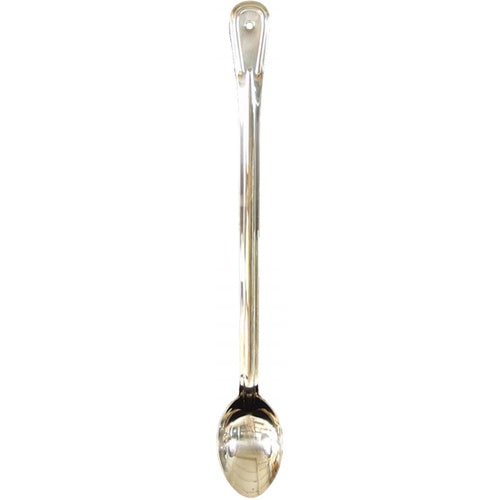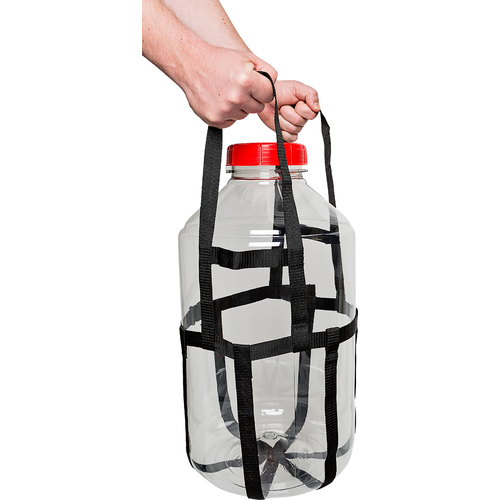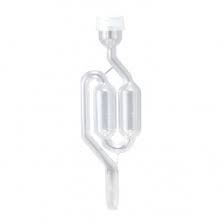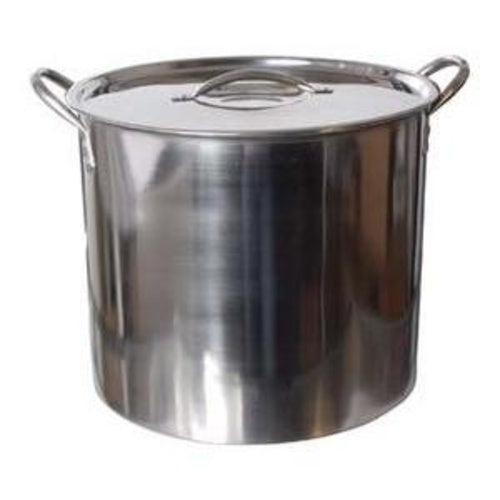 DELUXE 5 Gallon Beer Brewing Starter Kit With Premium Beer Ingredient Kit
This Deluxe Brewing Starter Kit includes all the basic tools and ingredients you need for brewing beer. This homebrew kit includes a new 5 Gallon Brewing Kettle, a premium Fermonster Fermenter with a spigot for easy transfer, A carboy carrier carrying handle for the fermentor  and a bubbler airlock. This kit also comes with the Palmer Premium Beer Kit - Kent's Hollow Leg - American Wheat --to brew your first batch of beer right away!. This is one of the best selling beer making kits and also included several upgrades that you will not get with other kits including Star San, an Adhesive thermometer, a Dial thermometer, Spoon and THREE Reusable grain bags. You actually have 2 Fermentors with this KIT so you can brew 2 5 gallon beers at the same time!! That's more than 104 12oz beers! This is an amazing value. The whole list of equipment includes:
(2) Brewmaster plastic buckets with spigots for fermentation, bottling, and cleaning
Bucket lid, stopper, and airlock
24 inch spoon
Vinyl tubing for transfers & bottling
Bottle filling wand
Wing bottle capper & 50 bottle caps
(3) 8"x15" re-usable mesh steeping bags for grain and hops
Star San sanitizer, 4 fl oz bottle
Bottle brush
Triple scale hydrometer and sample jar
Dial thermometer
Adhesive liquid crystal fermentation thermometer
Step by step instructions
FerMonster 6 Gallon Carboy Fermetor Vessel with Spigot and S-Shaped airlock
5 Gallon Stainless Steel Brewing Kettle

FerMonster 6 Gallon Carboy Carrier with Handle
Kettle Description:
This brew kettle is high quality stainless steel. It features 0.5-mm thick sides and bottom, and riveted stainless steel handles. This 5 gallon kettle can safely hold up to 3 gallons of wort while boiling, making it the perfect size for extract brewing right in your own home!

Features:

0.5mm thick stainless sides and bottom
10" H x 12.5" D
Riveted handles on kettle body
Kettle lid with riveted handle
5 gallon full capacity (3 gallons while boiling)

Perfect size for partial boil extract brewing!
FERMONSTER FERMENTOR Description:
The Fermonster Plastic Carboy fermenters are made from PET plastic (same as 2L soda bottles) which is far more resistant to oxygen than regular plastic. Plastic PET carboys are safer than glass carboy fermentors. Full carboys can be heavy and hard to maneuver and glass can break resulting in possible injury. Also with a wider 4" mouth, there is easier access for cleaning.
Specifications:
Uses a #10 stopper
Comes with an O-ring and an air tight lid with a hole for the #10 stopper (Solid lid also available but sold separately)
Weighs 1.5 lbs
Rated to 140 degrees F
Height: 19.25 inches
Diameter: 11.25 inches
Completely taste and odor free
Perfect for Beer, Wine, Cider, Mead, Kombucha or any other fermented beverage!
Beer Kit (Included) Description
Palmer Premium Beer Kits - Kent's Hollow Leg - American Wheat (or Similar if out of stock)
The award-winning recipe from Brewing Classic Styles by Jamil Zainasheff and John Palmer, prepared and assembled in a ready to brew ingredient kit!
American Wheat has a clean crisp malt character, low esters and a smooth hop character. It is a great beer for quenching your thirst, being not too dry, not too light, and not too heavy. This recipe is one of my personal favorites for a session beer.
This homebrew kit makes 5 gallons. About 52 12 oz beers!
This Kit Includes:
Briess CBW® Dry Malt Extract (DME),  Hops, Fermentis Yeast, Priming Sugar, Brewing Instructions, Recipe Instructions
Statistics:
Gravity  (OG) 1.053
Bitterness  23 IBUs
Color  4 SRM
ABV  5.5%
Item #

KIT98020

Availability
California - 6 In Stock

 


Pennsylvania - 9 In Stock
Weight

10LBS

ABV %
5.5
IBU
23
SRM
4
Beer Style
Wheat
Ready to Drink Within
2-4 Weeks
Alcohol Content
Medium (5-7%)
Bitterness
Low (10-25ibu)
Fermentation Temp Range
64-72
Brewing Method
Extract
Pre-Milled
Y
Documents
---
ALL ITEMS in order- KIT98020, FE250, BRKIT700, FE262, FE371, BE300