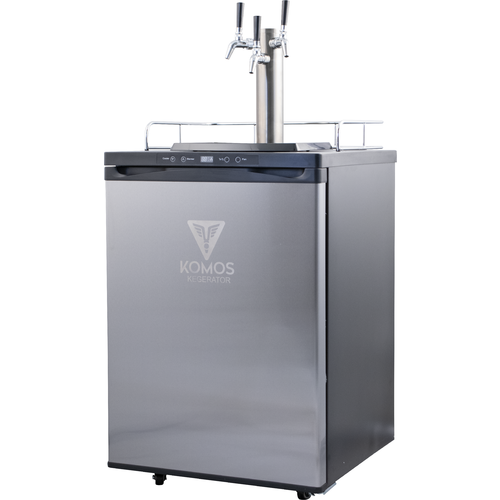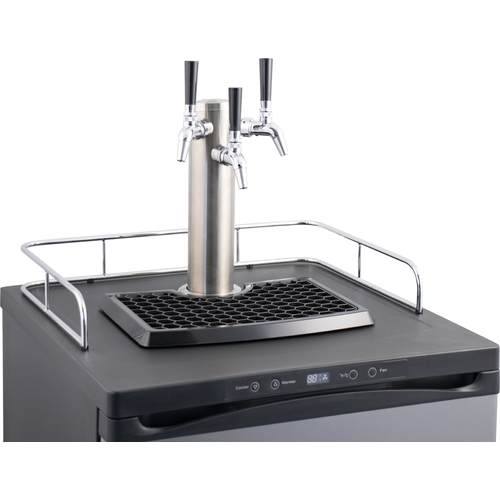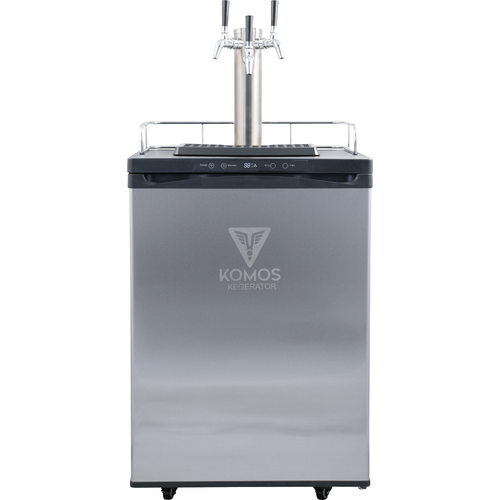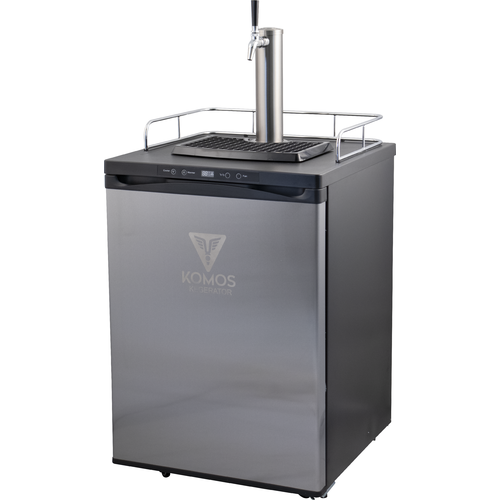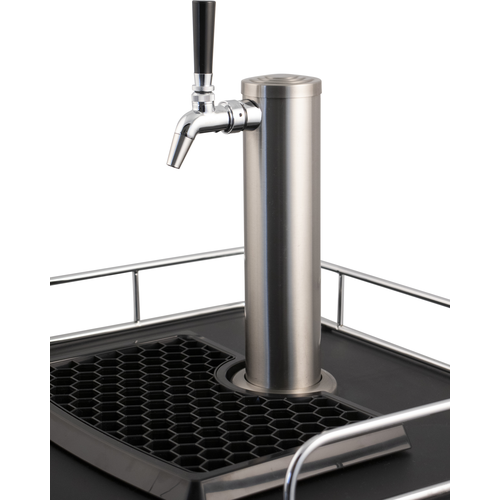 KOMOS® Kegerator with Stainless Steel Intertap Faucets
The KOMOS Kegerator with stainless steel Intertap faucets reprents the best value in home draft dispensing and sport a very impressive list of features. Quick and easy assembly thanks to push-to-connect Duotight fittings and EVABarrier draft tubing. High-quality, stainless steel Intertap, forward sealing faucets and stainless steel towers come standard. It also features a digital controller, stainless steel door, stainless steel floor, rolling casters, tower cooling fan, glass rack, robust KOMOS regulator, and a list of options. 
This unit features an extended range digital controller that can adjust internal temperatures from 26 - 82°F. The higher end of this range is really convenient for homebrewers who often want to ferment at temperatures around 70°F. The digital controller always displays the temperature and is easily adjusted from the front of the kegerator with the door closed.
All kegerators come with Intertap faucets mounted on a stainless tower. These faucets are the newest, most advanced, forward sealing, beer faucets on the market today and will work perfectly for years. This model inlcludes the all stainless steel version of the Intertap faucet. 
Our kegerators come standard with Duotight fittings and EVABarrier draft tubing. Duotight push-in fittings offer quick connection, a reliable seal, and versatility. Setting up and connecting draft line has never been easier -- no more hose clamps or heating water to soften tubing. Each kegerator comes with Duotight fittings for the tower shanks, regulator, and for splitting gas lines (double & triple tap only). EVABarrier double walled tubing offers superior protection against oxidation, CO2 loss, and microbial growth. It's also PVC-free and BPA-free.
The KOMOS kegerator boasts a list of other unique features for a kegerator in this price range, such as the tower fan, included KOMOS CO2 regulator, stainless floor, removable glass rack, rolling casters, and countertop drip tray.
A Komos regulator is included with every kegerator. The Komos Regulator is a high quality regulator that keeps consistent pressure. 
Feature Summary:
Stainless Steel Air Cooled Tower
Stainless Steel Intertap Forward-Sealing Faucets (choose number of taps above)
Duotight Fittings make connecting draft lines a breeze
Digital Thermostat with wide 26 - 82° F temp range
Robust KOMOS Dual Gauge Regulator included
CO2 Tank holder mounts on back of kegerator (tank not included)
Efficient and powerful compressor
Stainless Steel Door
Countertop Style Drip Tray
Removable Glass Rack
Stainless Steel Floor for additional keg support

Includes EVABarrier beer and gas tubing

Beverage line measures 4mm ID x 8mm OD
1 x 1.7m length of line per tap
Gas line measures 5mm ID x 8mm OD
1 x line of varying length depending on number of taps (2, 2.5, or 3m)

Removable shelf if you want to use it as a refrigerator
You will need to purchase keg connections depending on whether you are serving commercial sanke, ball lock corny, or pin lock corny
Available Kegerator covers and "off road" casters for moving over uneven terrain
Detailed instructions on assembly and use
Specifications:
24" wide
23.5" deep
33.5" Tall (fridge only)

36" with Caster wheels
49.75" with tower
52" with Casters and Tower

110 v - 60 hz
0.8 Amp draw
Internal Dimensions:
20" wide
16.25" deep

13.25" on compressor side

28" tall

24" clearance under glass rack
What Fits:
2.6 Gal. BrewKeg - 2
5 Gal. Torpedo Keg - 3
5 Gal. Slimline Torpedo Keg - 3
5 Gal. Pin Lock Cornelius Keg (Corny Keg) - 3
5 Gal. Ball Lock Cornelius Keg (Corny Keg) - 3
5.16 Gal. Sixth Barrel Keg (Sixtel, Log) - 2
7.75 Gal. Quarter Barrel Keg (Pony Keg, Stubby Quarter) - 1
7.75 Gal. Slim Quarter Keg (Tall Quarter, The Slim) - 1
15.5 Gal. Half Barrel Keg (Full Size Keg) - 1
See below for the Kegerator Instruction Manual.
These products have a minimum advertised price. Please reference the chart below.
| | |
| --- | --- |
| SKU | MAP |
| KG415A | |
| KG415B | |
| KG415C | |
Item #

KG415C

Availability
California -

 

Out Of Stock


Pennsylvania - 45 In Stock
Weight

108 LBS

Options
3 TAP