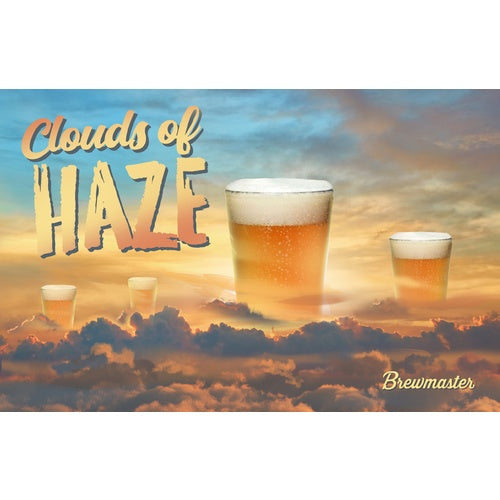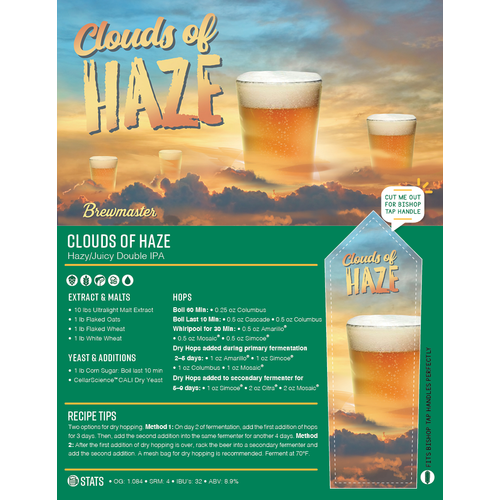 Clouds of Haze Hazy/Juicy Double IPA - Brewmaster Extract Beer Brewing Kit 5 GALLON
Ready to be rained on with flavors of orange, tangerine, grapefruit, and dank? This New England-style Double IPA is high in alcohol, low in bitterness, and pillowy soft. Loaded with flavor, Clouds of Haze is hard to see through, and even harder to put down.
Featured Ingredients:
Amarillo®, Cascade, Citra®, Mosaic®, Columbus, and Simcoe® Hops
Flaked Wheat & Oats
CellarScience™ CALI Yeast
Beer Stats:
OG: 1.084
SRM: 4
IBUs: 32
ABV: 8.9%
Amarillo® is a registered trademark owned by Virgil Gamache Farms, Inc.
Citra®, Mosaic®, and Simcoe® are registered trademarks owned by Yakima Chief Hops, LLC.
| | |
| --- | --- |
| Item # | BMKIT106 |
| | |
| | 15 LBS |
| ABV % | 9.10% |
| IBU | 32.00 |
| SRM | 4.4 |
| Beer Style | IPA & Imperial IPA |
| Ready to Drink Within | 2-4 Weeks |
| Alcohol Content | Very High (9%+) |
| Bitterness | Medium (26-45ibu) |
| Fermentation Temp Range | 64-72 |
| Pre-Milled | Y |