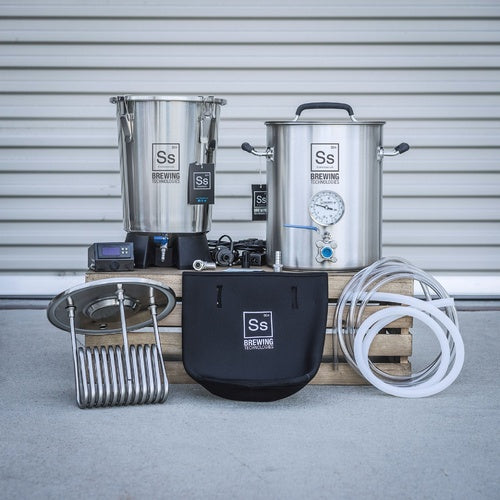 Ss Brewtech Extract Equipment Kit - 5 gal
From one of the best names in brewing equipment, This is a top of the line 5 Gallon Brewing Kit from SS Brewtech.
If you're new to the hobby or are moving up from a simple set up, this is the kit for you. No need to add a myriad of parts to your shopping cart, we've got all the essentials included. Added up separately these components are offered at roughly a 10% discount to list price if purchase individually.
This kit is set up to brew 5 gallons of beer at a time.
Home brewing is the greatest hobby in the world and a starting with a kit like this will insure you have all the tools necessary to make professional quality beer at home, using all stainless vessels.
Kit Includes:
Ss Brew Kettle (10 gal)
Brewmaster Bucket (7 Gal)
FTSs Temp Control (Brewmaster Bucket)
1/2" threaded hose barb
90 degree lid barb for Brew Bucket
Kettle thermometer and coupling
1/2" Silicone tubing 5 feet
Note: The image shows the mini brew bucket and kettle. This kit comes with the 7 gallon brew bucket and 10 gallon kettle. This image is just there for you to see what the rest of the kit looks like.