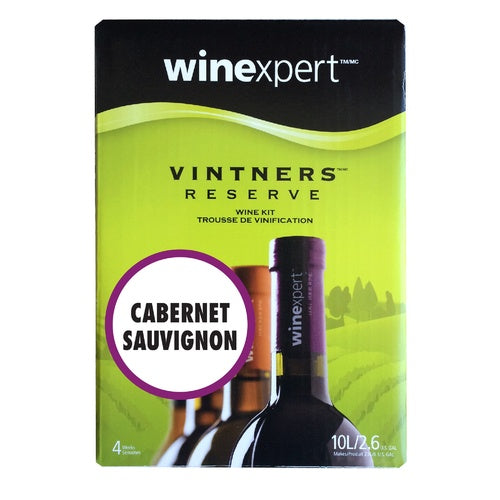 Winexpert Vintner's Reserve Cabernet Sauvignon Wine Recipe Kit
Our best selling Wine ingredient kit.  Vinters Reserve Cabernet will delight.  Impress your friends and family with your wine making ability using this super popular Cabernet Sauvignon Wine Ingredient kit!
Ready in 4 weeks and makes 6 gallons.
Deep ruby, with black currant and cedar on the nose.
Dry Sweetness
Medium Body
Medium Oak
| | |
| --- | --- |
| Item # | W252 |
| | |
| Weight | 28LBS |
| Grape Style | Cabernet Sauvignon |
| White, Red, or Rose | Red |
| Product Line | Vintner's Reserve |
| Skin Pack Included | N |
| Ready In | 4-5 Weeks |
| Price | $50-100 |
| Concentrate Volume | 10L |