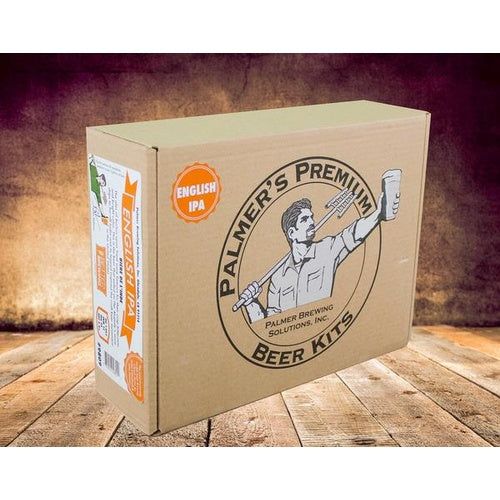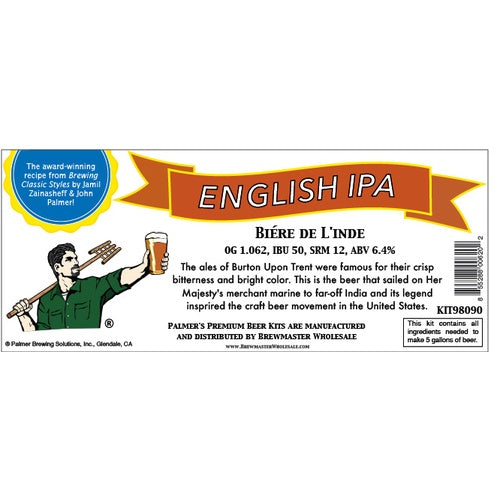 Palmer Premium Beer Kits - Biere De L'inde - English IPA
Palmer Premium Beer Kits - Biere De L'inde - English IPA
The award-winning recipe from Brewing Classic Styles by Jamil Zainasheff and John Palmer, prepared and assembled in a ready to brew ingredient kit!
English IPA is often misunderstood due to the myths and legends of its origin at Burton-upon-Trent. The secret to this beer is not the highly mineralized ground water of the region, but balance in all aspects. The water does have higher proportions of calcium and sulfate than other typical water sources, and this does serve to punch up and dry out the hop finish, but this is only one aspect of the whole. The malt body of this beer is rich, warm and toasty, but not overly sweet or heavy. The hop bitterness, flavor and aroma all serve to crown this beer with greatness. Noblesse Oblige.
The ales of Burton upon Trent were famous for their crisp bitterness and bright color. This is the beer that sailed on Her Majesty's many ships to far-off India and its legend inspired the craft beer movement in the United States.
This homebrew kit makes 5 gallons.
This Kit Includes:
Briess CBW® Dry Malt Extract (DME), Crushed Steeping Grains, Steeping Bag, Amylase Enzyme, Hops, Fermentis Yeast, Priming Sugar, Brewing Instructions, Recipe Instructions
Statistics:
Gravity  (OG) 1.062
Bitterness  50 IBUs
Color  12 SRM
ABV  6.4%
| | |
| --- | --- |
| Item # | KIT98090 |
| | |
| Weight | 12LBS |
| ABV % | 6.4 |
| IBU | 50 |
| SRM | 12 |
| Beer Style | IPA & Imperial IPA |
| Ready to Drink Within | 2-4 Weeks |
| Alcohol Content | Medium (5-7%) |
| Bitterness | High (46-70ibu) |
| Fermentation Temp Range | 64-72 |
| Brewing Method | Extract |
| Pre-Milled | Y |